a cherished favorite to detangle hair for over 40 years. I really like the way Kiehl's Condition makes my hair feel. after shampooing I immediately notice a silk smooth hair texture making it easy to detangle with a brush. The smell is lovely, which is a huge plus, and the sizes available is perfect! which last me about a month.
Kiehl's Olive Fruit Oil Nourishing Conditioner: restore colored hair to its natural balance
• A thin, free-flowing conditioner of superb quality for all hair types.
• For use after shampooing, as a conditioner or grooming aid any time. Detangles and moisturizes, leaving hair soft and manageable, but not greasy.
• Cool Kiehl's Fact: The formula gets its unusual name from the fact that customers who were invited to test the product during development were so eager to have more that Kiehl's chemists never had the chance to name the formula properly. "Formula 133" was their code name for their winning test sample!
Kiehl's Magic Elixir Hair Restructuring Concentrate contains a potent concentration of rosemary leaves and avocado oils that penetrate your hair and scalp with therapeutic action. When used regularly, your hair's manageability improves, it becomes softer and its natural shine.
Which Kiehl's Products Are Right for You?
Kiehl's is a skin care company that was founded in the mid 1800s and has since grown to become a global distributor, with market share in India, China, and Spain, among other countries. Rather than focusing on one specific skin care issue, this company offers a variety of products for a multitude of problems. For example, Kiehl's offers hair, facial and body cleansers, moisturizers, toners, sun care items and many others. Although such dispersion in skin care product types can suggest that Kiehl's is a jack of all trades but master of none, the wide selection can be useful for individuals who are building a skin care kit and would prefer it all be from one brand. Nonetheless, make sure to study each product carefully before spending your money and work with a skin care specialist before making the final choice.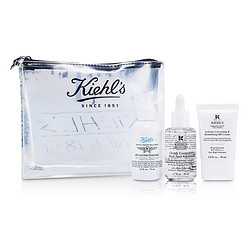 Kiehl's by Kiehl's BB Cream Set: 24/7 Activated Moisturizer + Clearly Corrective Dark Spot Solution + BB Cream + Bag -3pcs+1bag for WOMEN

This refreshing mix of Kiehl's favorites is paired with CLARISONIC SMART Profile to cleanse and awaken your skin from head to toe. The SMART Profile is a waterproof device suitable for use on your face and body that refines and exfoliates for soft, radiant, touchable skin. It.